A daily list of active Roblox Vehicle Tycoon Codes. Use these great promotions to get a lot of Cash, Cars and many other popular in-game items. Get some information about the developers of this amazing game and learn how to redeem these promotions so you can claim your reward instantly.
Roblox Vehicle Tycoon Codes (Complete List)
Vehicle Tycoon is an amazing Roblox game where the players may use Codes to get Cash or any other rewards. Furthermore, they have the option to gather and drive beautiful cars, do a car dealership and explore various stages. The developer of Vehicle Tycon is the popular Roblox user @liteImpulse. Currently, this game is available in more than 30 languages and some of the most popular ones are: English, Japanese, German, Spanish, Indonesian, Danish, Romanian, Italian and Chinese. The release date of the game is June 6 2018 and this game has almost 500 million visits at Roblox. Sounds crazy right? Well, according to the stats at this online gaming platform this game is one of the most played ones.
When is talking about the game classification, this game belongs to the building genre. Further, make sure to follow the official Twitter profile of the developer for the latest game updates. You can find it under the username @RBXLiteTycoon. Another also important thing you need to do is to join the official Disord channel and Roblox Group. You can join the group when you search on Roblox for Lite-Tycoon and the invite link to the discord channel can be found at the official Roblox page of the game under the social links tab. That's enough for the game, now let's explain what are promotions and why you need to use them.
In the next few paragraphs, you can see two tables with different promotions for Roblox Vehicle Tycoon.
Roblox Vehicle Tycoon Codes (Active)
Do you want to get some cash or other great rewards in Roblox Vehicle Tycoon using Codes? If yes, make sure to check the table below. This table contains all active codes for this popular game. Make sure to copy and enter all of them into your account as they are shown in the table below. Only in that way, you will avoid any mistyping errors. Check the table below and grab these promotions before they expire!
| CODE | REWARD | STATUS |
| --- | --- | --- |
| HAPPY | Use this Code to Get 10,000 Cash | ACTIVE |
| SNOW | Enter this Code to Claim 1,000 - 2,000 Cash | ACTIVE |
| TURKEY | Apply it to Get 1,000 - 2,000 Cash. | ACTIVE |
| DOUBLE | Get 1,000 - 2,500 Cash. | ACTIVE |
| SCHOOL | 1,000 - 2,000 Cash. | ACTIVE |
| HALLOWEEN | 1,000 - 2,000 Cash. | ACTIVE |
Expired Promotions
If you are not a newbie at this game you should probably already know that these promotions expire after some time. To clarify, some of them might be limited for a certain period or a specific number of players. Therefore, the promotions you see in the table below are not working anymore. They used to, but the last time we have checked using our official Roblox profile @tornadocodes they were inactive. Check all inactive promotions in the table below.
| CODE | REWARD | STATUS |
| --- | --- | --- |
| CHRISTMAS | Get 15,000 Cash | EXPIRED |
| GIFT | 2000 Cash | EXPIRED |
How to Redeem Codes in Roblox Vehicle Tycoon?
Since you got the active Codes for Roblox Vehicle Tycoon now you need to redeem them and claim your free rewards. To do that, you will need to follow some steps. Therefore, please follow the steps below to claim your reward.
Launch the Vehicle Tycoon Game from the official Roblox website or using the app. Since you are looking for codes, you should probably already know how to do that.
Further, the next step is to locate the star icon. It is on the left side of your screen. Right next to that icon is a text that says "Add Code". This is the place where players are entering Promotions in Vehicle Tycoon. Therefore, please write your code in the editable box and click outside of that box.
In the end, if your code is valid and you are 100% sure that you have entered it correctly, you should see a success message. For example, we have used the first Code "HAPPY" and we got a free 10,000 Cash in our Vehicle Tycoon account.
Below are two images in which you can see the locations of the buttons and the field for entering the codes. In the first image is the "Star" button along with the "Add Code" text field. On the other side, in the second image, you can see the success message.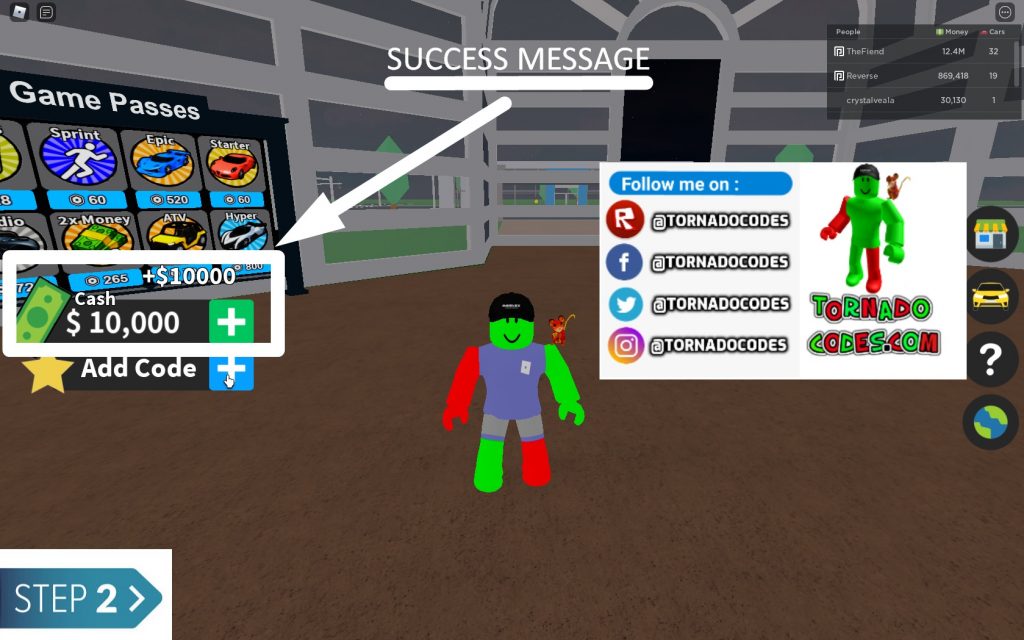 Other Codes for Famous Roblox Games
Vehicle Tycoon is just one of the many popular games at this online multiplayer gaming platform called Roblox. Since you already have an account there, you probably play many other games. Therefore, make sure to check our page with All Promotions for Roblox Games where you can find the most recent promotions for your favorite games. We have thousands of other great promotions as for this one.