Check this always up-to-date list of all active Viking Simulator Codes and use them to get some Free Coins (Money) and Epic Pets. Learn more about the game itself and how to use these promotions in the right way. Visit this page more often and always catch the latest promotions before they expire!
Roblox Viking Simulator Codes (Full List)
Viking Simulator is another popular game at Roblox where the players might use Codes to get some free rewards. As a reason of that, we have prepared two different lists of codes. In the first list are all active promotions for this game and in the second list, you can see the expired ones. We recommend you to check the list with the active ones more often since this list is always up to date with new codes added almost every day.
Furthermore, the developer of this popular game is the Roblox game development group "Sellout Studіos". The owner of this group with more than 75,000 members is the user UndoneBuilder. Viking Simulator was created on 11/8/2019 and this game has more than 35 million visits at the Roblox website. Also, another great piece of information is that this game has more than 200,000 favorites and it is one of the most popular Medieval games at the Roblox website. It is an amazing game where the player can travel through multiple kingdoms and try to become the strongest Viking. Make sure to follow the official Twitter profiles of the original creators since they are the people who developed this amazing game and they deserve the credit.
Viking Simulator Codes (Active)
Below are the Codes that you might use in Viking Simulator and get Free Money (Coins), Epic Pets or other great rewards. These codes are case-sensitive so make sure to enter them as they are in the table below. Check the list of the most recent promotions below.
| CODE | REWARD | STATUS |
| --- | --- | --- |
| UndoneBuilderIsAwesome | Redeem this Code and Get 500 Coins | ACTIVE |
| WARRIOR | Use this Code to Get a Free Epic Pet | ACTIVE |
| DefildPlays Is Awesome | Apply this Code to Get a Free Pet | ACTIVE |
| Austin Is Awesome | Enter this Code to Get a Free Pet | ACTIVE |
| MILO IS AWESOME | Use this Code to Get a Free Pet | ACTIVE |
| RazorFish Is Awesome | Get a Free Pet | ACTIVE |
| UndoneBuilderIsAwesome | Get a Free Pet | ACTIVE |
| VIKINGS | Get a Free Pet | ACTIVE |
Expired Promotions
On the other side, these promotions are not redeemable anymore. To clarify, you can enter any of them but you will get an error message that the code is not valid. Therefore, save your time and avoid entering any of the promotions listed below. Check all expired promotions in the table below.
Note: There are not any expired promotions right now!
How to Redeem Codes in Roblox Viking Simulator?
Since you have a lot of active Promotions for Viking Simulator, now you probably want to enter them in your Roblox account. To do that, you will need to follow some simple steps and get your reward within seconds.
Follow these steps you redeem any active promotions and get a reward in your account:
At first, make sure that you are logged into your Roblox account and that you have launched Viking Simulator.
After that, once you are logged in, take a look at the blue Twitter icon on your right side of the screen. It is really noticeable and you should locate it easily. Once you have found the icon, please click it.
Furthermore, you will see a new window that says "Twitter Codes". Right after that text, you will see an empty field. This is the place where you should write the code. Therefore, please enter any of the active Viking Simulator Codes and click the green "Enter" button.
That's it!
Below are 3 images that display the whole process. In the first image, as usual, you can see the location of the Twitter button. In the second image, you can see the empty field where you should write the promotion. Finally, in the last image, you can see the success message and some information about the reward given.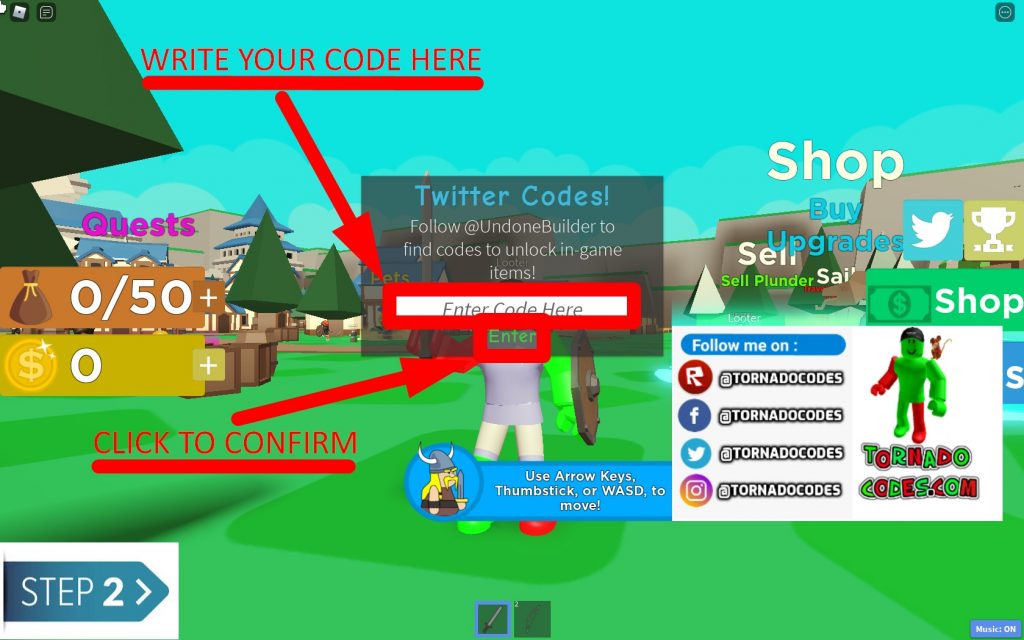 In addition, the code redemption process is very simple. However, if you are facing any troubles, feel free to contact us. Our support will try to help you in a very short time.
More Codes for other Popular Games at Roblox
Do you play any other popular games at Roblox? If yes, and you need some more codes like these make sure to visit our page with all promotions for Roblox Games. On this page, you can see lists of promotions for all Roblox games. Using them, you will be able to get amazing rewards for free.