Check the Complete List of Blox Fruits Codes and Redeem any of these promotions in your Roblox account to get Boosts, Money and other great rewards. This list is frequently updated and we post a new code almost every single day! As a reason of that you should visit this page more often and catch up the promotions before they expire.
Blox Fruits Codes – Complete List
We posted two lists of Roblox Blox Fruits Codes. The first list contains all active codes and in the second list you can see all expired promotions for this amazing game. Furthermore, this popular game was created by the Roblox group "go play eclipsis". Currently, this game has more than 400 millions players from different countries around the world. It has 514,285 favorites and this is one of the most popular Roblox games for sure. Make sure to follow @BloxFruits on Twitter for the latest game updates.
Blox Fruits Codes (Active)
As always, we first post the active codes. Therefore, below are all active promotions for this game. Use them to get Cash (Money), Boosts and many other great rewards in your Blox Fruits account. Check them below.
| CODE | REWARD | STATUS |
| --- | --- | --- |
| Sub2Daigrock | Use this Code to Get 15 min X2 XP Boost | ACTIVE |
| Axiore | Enter this Code to Get 15 min X2 XP Boost | ACTIVE |
| TantaiGaming | Apply this Code to Get 15 min X2 XP Boost | ACTIVE |
| fudd10 | Redeem this Code to Get 1 B$ | ACTIVE |
| STRAWHATMAINE | Use this Code to Get 15 min of x2 Exp | ACTIVE |
Note: If any of these is listed wrong or it has expired please let us know.
If you don't know how to use them please make sure to read the full post.
Expired Codes
The codes you see below have expired and they are not working anymore. Do not try to redeem any of these because all these have been deactivated by the official developers. Check all expired promotions in the table below.
| CODE | REWARD | STATUS |
| --- | --- | --- |
| CONTROL | Enter this Code to Get 15 min x2 XP Boost | EXPIRED |
| UPDATE10 | Use this Code for Stat Refund | EXPIRED |
How to Redeem Codes in Blox Fruits?
Please follow the steps you see below in order to redeem Roblox Blox Fruits Codes successfully. These steps are very simple but you must follow all of them very carefully.
Follow these steps:
At first please log in to your Blox Fruits Account. You can login through the official Roblox launcher or using the app.
After that you should find and click the Twitter Bird Icon. At Blox Fruits you can find this icon on your left side of the screen.
Once you have clicked it, a new empty box will show up. Furthermore, write any code in the empty field and click the white "Try" button.
In the end you will see a success message and that means that you have just redeemed your reward successfully.
Below are three images that explain this process visually. In the first image you can see the location of the Twitter button. Furthermore, in the second image you can see the empty field and the "Try" button. The last image contains the success message.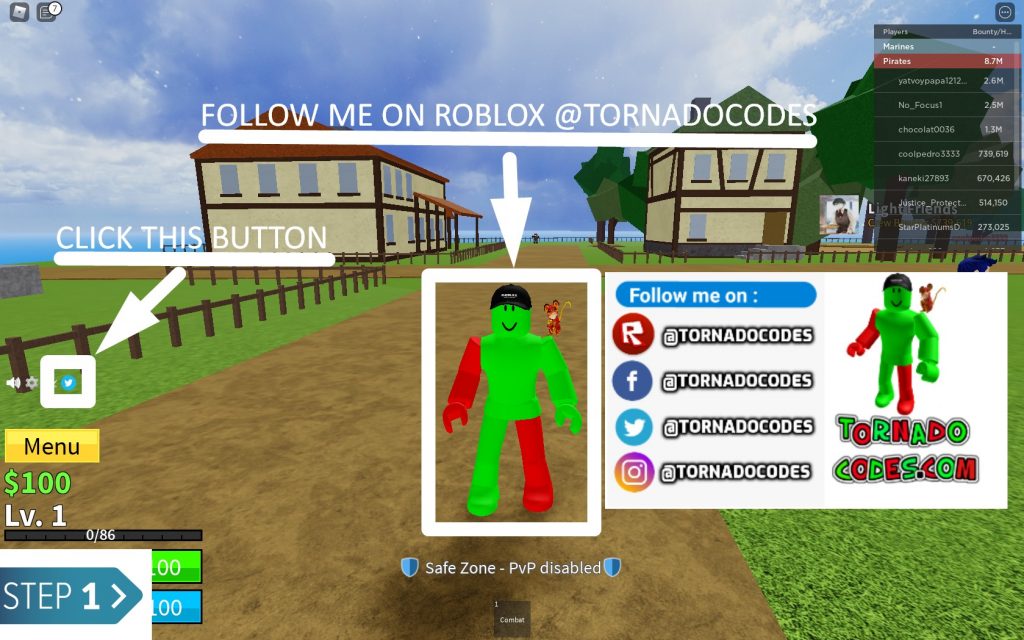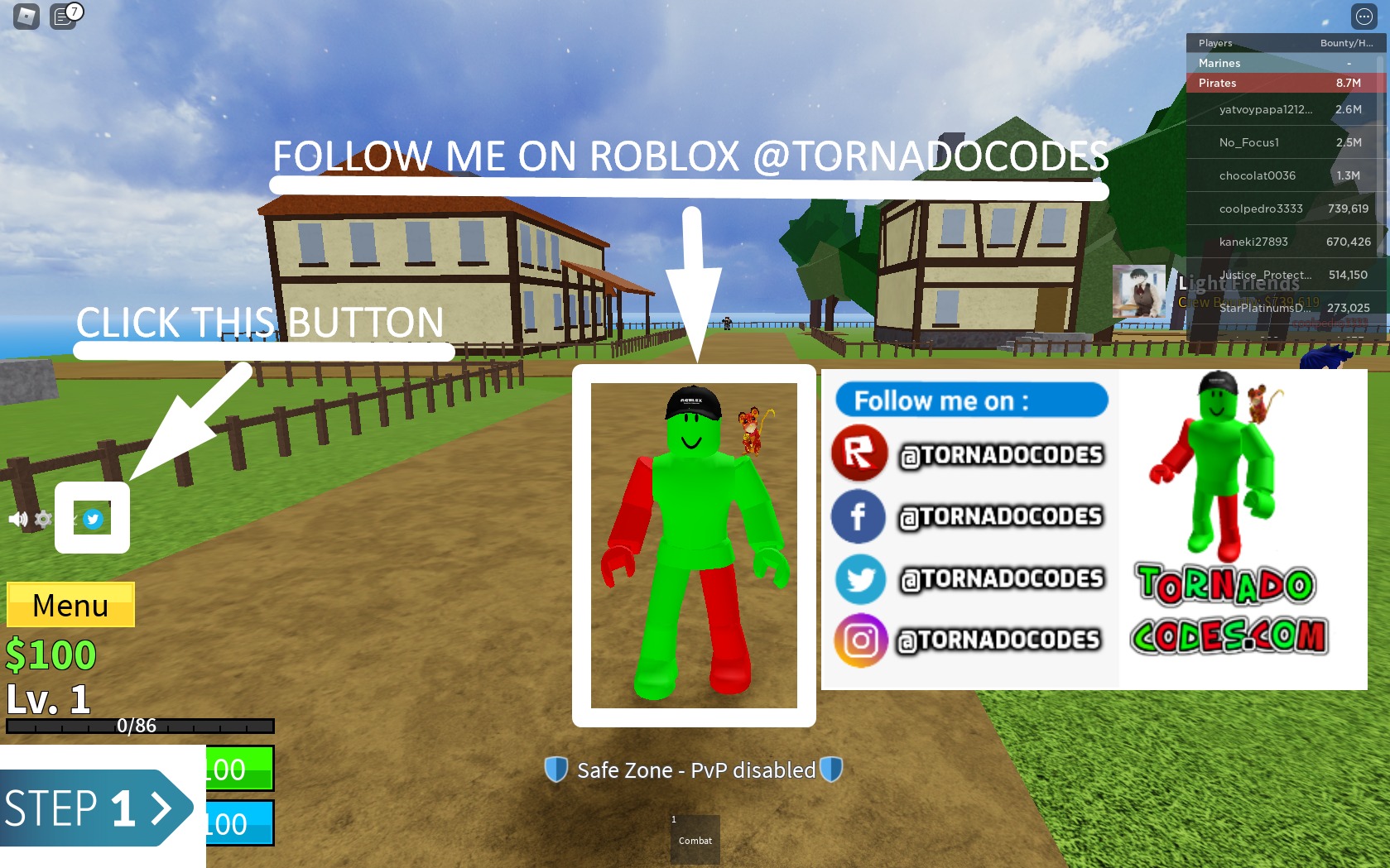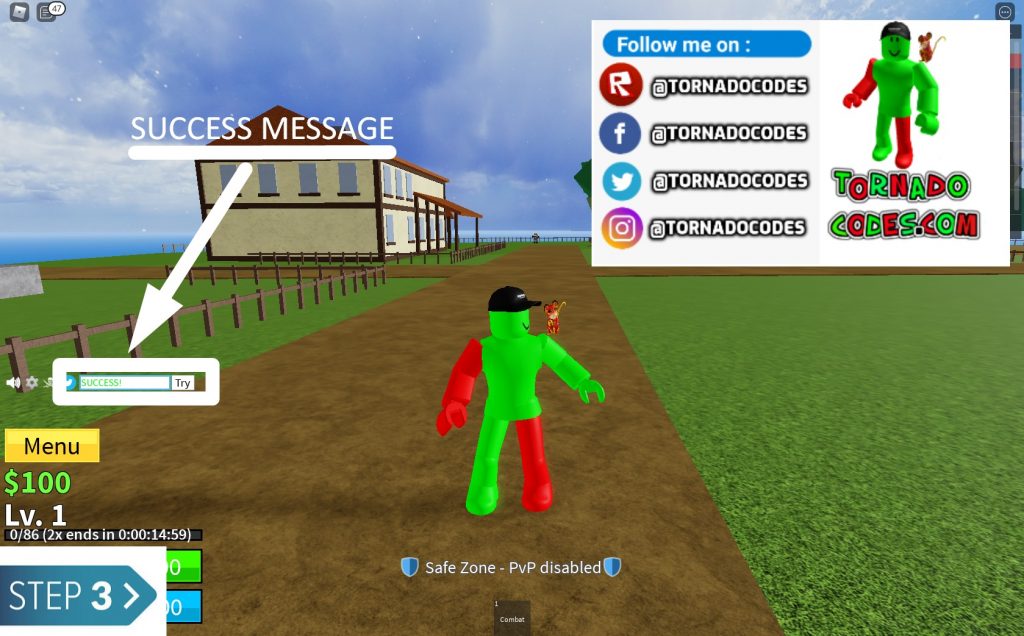 It is very easy right? In short all you need to do is to copy any active code and enter it in the empty field in your account dashboard as shown in the second image uploaded above. However, if you are newbie in this game and you still don't know how to redeem codes in this game feel free to contact us. Our contact support will try to help you in a very short time.
More Codes for Similar Roblox Games
That is all to say about this popular game at Roblox. If you play more games at this online gaming platform make sure to visit our page with all codes for Roblox games. There are lists of codes for many popular games you might want to check.
Please let us know below if you have any new valid codes for this game.