Monsters of Etheria Codes List
Check our new list with Monsters of Etheria Codes and use any to get Money and unlock special virtual items in your Roblox Account. As always, this list is up to date with a lot of new codes! Check them now!
Active Codes
These Monsters of Etheria Codes will help you get some Money, Crates, unlock the Underground Lab, get Galaxy Snik, Ancient Flute, Flyden and many other items in this Roblox Game. Furthermore, below you can see one up to date list with all active promotions for this game. These are manually re-checked using our official Roblox profile, so you can always be sure that the same are valid.
| CODE | REWARD | STATUS |
| --- | --- | --- |
| HappyEaster2020 | Use this Code to get 2 Multi Crates | ACTIVE |
| CodeFix2020 | Apply this Code and get 1 Multi Crate | ACTIVE |
If you have checked all of them, and any of these has expired, please let us know here. We will update it immediately. Further, those players who have any new code and want to share it, please send us the code via this "Submit" page at our website. We will be happy to add it in the list.
Monsters of Etheria Codes – Expired List
Most of the Monsters of Etheria players already know that these promotions don't last long and after some time they expire. Therefore, in the list below are all expired codes for this game.
| CODE | REWARD | STATUS |
| --- | --- | --- |
| DaMap2020 | Apply this code and get 5 Self Crates | EXPIRED |
| Valentines2020 | Use it to get the Caring Skin For Wanderwood | EXPIRED |
| HappyLNY20 | Redeem this code and get the Special YOTRat Skin for Honumb | EXPIRED |
| YearOfTheRat20 | Special YOTRat Skin for Kungafoo | EXPIRED |
| HNY2020 | 5 Self Crates | EXPIRED |
| BlackFriday2019 | Rich Flyden Skin | EXPIRED |
| Thanksgiving2019 | Harvest Skin for Cachick | EXPIRED |
| FiveForFive2019 | 5 Self Crates | EXPIRED |
| SelfReflectionFour2019 | 3 Self Crates | EXPIRED |
| OneYearOfEtheria | 3 Self Crates | EXPIRED |
| HappyAnniversary2019 | 3 Self Crates | EXPIRED |
| BackToSchool2019 | 5 Self Crates | EXPIRED |
| RaidAtArea51 | 3 Self Crates | EXPIRED |
| OneHundredEtherians | 5 Self Crates | EXPIRED |
| OneHundredEtherians | 5 Self Crates | EXPIRED |
| SummerAwaits2019 | 5 Self Crates | EXPIRED |
How to redeem Monsters of Etheria Codes?
We prepared one short text tutorial you'll need to follow if you don't know how to redeem active codes in Monsters of Etheria. These steps are very easy but you must follow all of them very carefully. Let's begin.
Follow these steps very carefully:
Run Monsters of Etheria on your device. (Note: You can run this game through the launcher at the official Roblox website or through the app.
Once you are in, you should go to the in the Deep Marine Community as shown in the first image below.
Furthermore, you should click on General Shoppe button from your left side on the screen and the big blue "Code" button in the middle of the top right after the "Sell" button. You will see one "Input Code" field and you should write the code in it. This step is shown in the second image below.
In the end, if the code is valid you will see success message which says "Redeemed + the name of the reward". You can see this in the last image below.
Images
In the first image you can see the Deep Marine Community. To clarify, this is the place you must visit at first.
Second image includes the two buttons General Shoppe and Codes along with the empty field where you should enter codes.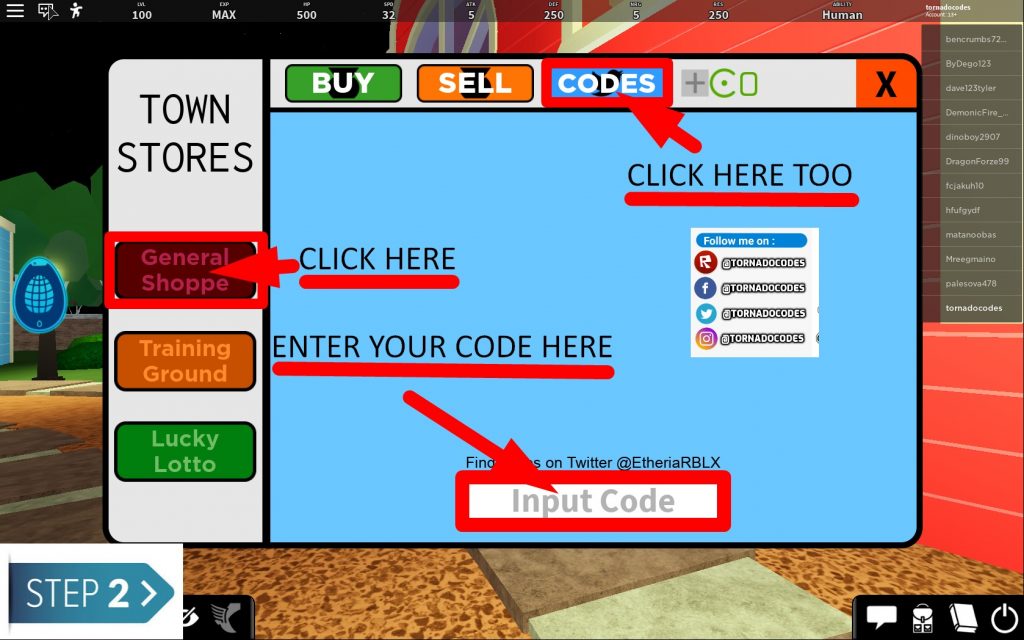 In the last image is shown the success message and the reward we have just redeemed. For example, we used the CodeFix2020 and received 1 Multi Crate as a reward.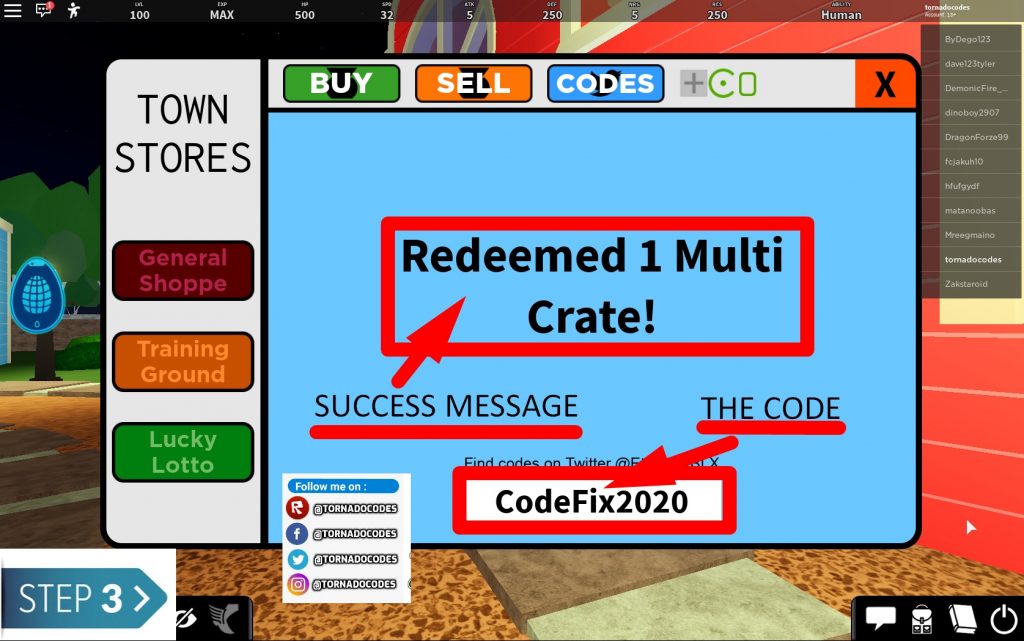 In the end do not forget to follow our official Roblox Profile @tornadocodes. Also make sure to follow the official Monsters of Etheria Twitter Page which you can find under the username @EtheriaRBLX.
Similar Roblox Games with Codes
We have many other lists with games and codes for Roblox. Furthermore, we keep all of them up to date with fresh and new codes. Therefore, if you need more codes for Roblox Games make sure to visit our full list here. There are thousands lists with promotions for many other games.
The players who are newbies, and for some reason cannot enter or redeem any active promotions, feel free to send us a message using our contact page.