Check this list of One Piece Rose Codes and use any to Level Up, Get Free Spins, EXP Boosts and other great rewards in this Roblox Game. Totally Free. This list is up to date and all these have been rechecked.
One Piece Rose Codes Full List
At first, you need to know that all these codes are manually rechecked before being posted at our website. Therefore, you can always be sure that they are working. Furthermore, apply any in your account to get a lot of Free Spins and Exp Boosts so you can Level Up Really Fast. These are very rare and can be found at the social media profiles of the official developers.
Active One Piece Rose Codes
The first table contains all active codes for this amazing game by Frostline Gamesby. These are case-sensitive so make sure to enter them in your account in the same format as they are in the table below. You should always act fast because these usually don't last long. As a reason of that, make sure to check this table more often. These are usually released periodically and we collect the latest active ones. Check the full list from the table below.
| CODE | REWARD |
| --- | --- |
| !Code Update2Out | Redeem this code and get 5 Race Spins and 10,000 yen |
| !Code King Of Races | You will get Free 5 Race Spins |
| !Code BackUp | Use it to get 5 hours x2 XP boost and 8,000 yen |
| !Code SoSorry | Get XP Boost and 5,000 Beli |
| !Code 10k Likes | Use this great code to get 5,000 beli and 30 min x2 XP boost |
| !Code AbsBirthday | XP Boost |
| !Code Bon Voyage | Get 5 Free Spins |
| !Code Update1 | Apply it to get x3 Hours XP Boost, 0 Race Spins and 40,000 Beli |
| !Code FreeRelease | Use it to get XP Boost |
| !Code DelayDelayNoMi | Apply it to get 2500 Beli |
| !code ReleaseHype | XP Boost |
If any of these is listed wrong or it has expired, please let us know. Those who are facing any troubles and for some reason cannot redeem any, please contact us through our contact page. Our contact support will try to help you in a very short time.
Expired Codes
On the other side, these below have expired. Therefore, they are now unusable and not working anymore. However, you might still want to check any of them and see what kind of rewards they used to give in the past. Check them below.
| CODE | REWARD |
| --- | --- |
| !Code Bon Voyage | Use it to get Free Spins for the One Piece Roses Public Test |
| !Code DelayDelayNoMi | Use it to get 2500 beli |
| !Code AbsBirthday | Code for EXP or XP Boost |
| !code ReleaseHype | EXP or XP Boost |
How to Redeem Codes in One Piece Rose?
In addition this is one simple process. Please follow all the steps you see below to redeem any active One Piece Rose Codes in your Roblox Account.
Follow these steps very carefully:
At first you will need to log in to your Roblox account and launch the One Piece Rose on your device. (Obviously, you must be logged to start playing any of these games).
Next what you need to do is to click the big play button and take a look in the left upper corner. You will see one small icon in the middle of the left upper corner which you need to click. (To see the exact location of the icon please visit the first image below).
Once you have clicked it, you will notice one chat menu. Therefore, write any active One Piece Rose Codes in the empty field and hit the enter button. (This step is clearly shown in the second image below).
That's it!
Take a look at the images below to understand more clearly how you can redeem One Piece Rose Codes in your Roblox Account. To clarify, it is a very simple process and you should not have any troubles. In addition, all you need to do is to focus on the green lines and arrows.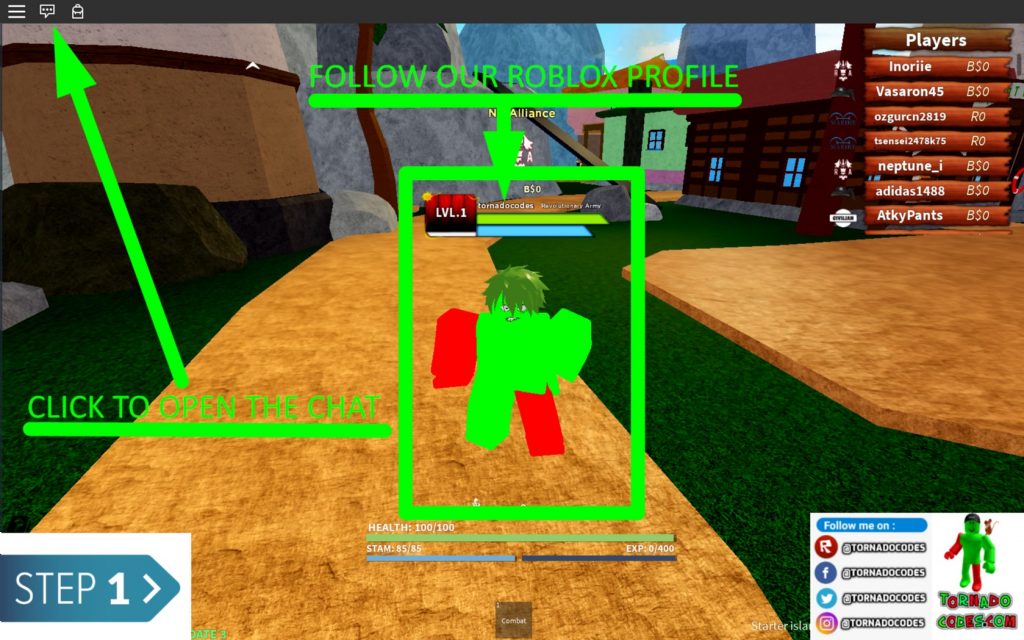 Additional Information
One Piece Rose has incredible gameplay, where you can meet a lot of new friends and fight against enemies. Furthermore, you can choose on which side you will stand for. In addition, you can choose to play as a Marine, Pirate or Revolutionary. In this game you can find a lot of Fruits such as : Ice, Chop, Light, Flame, Human, Spin, Invisibility, Smoke, Magma and Quake.
Furthermore, five developers designed One Piece Rose:
@NLAUxx;
@AburtROBLOX;
@Shunnz;
@card_jester and @StoryArtCreates.
More Codes for Roblox Games
We have thousands of other huge lists with codes for so many popular Games in Roblox. Therefore, we collect the most recent ones from various developers. As a reason of that, you might want to check our full list of games similar to this one. You can do that here.
That is all to say. In the end, do not forget to follow our official Roblox, Facebook, Instagram Twitter, Discord and Pinterest Profile. You can find us at all of these under the username @tornadocodes.